WHO WE ARE
"We are among the class-leading Solar Power Companies based in Bihar that is keenly dedicated in the design and delivery of custom Rooftop Solar Power Projects and Solar Applications. We have a key presence both in Commercial, Industrial and Public Sector market. "
"We are pioneers in the area of Solar Panel rooftop renewable energy solutions that are eco-friendly, efficient & affordable. Radiation power focuses on significantly reducing electricity costs for its customers, attractive payback, hassle-free operation & maintenance and affordability through financing. Radiation power makes it convenient and affordable to setup a solar rooftop project by offering both OPEX (RESCO) model and CAPEX model with bank and self-financing. Harnessing on its strong technical capabilities and experienced engineering team and prompt after sales service support, Radiationpower/Investor has attached with setup of rooftop systems in over hundreds of institutions, industries and commercial establishments."
HOW DOES ROOFTOP SOLAR WORK?
When sunlight strikes the solar panels, it induces chemical reactions that release the electrons, thus generating electric current. The on-grid rooftop solar system is integrated with the main grid supply. This system allows power to be used from the grid supply only when the rooftop solar system is unable to supply the required power. Thus, a well-planned rooftop system can efficiently supply power without using grid supply saving expenses otherwise incurred on using power from the grid. In fact, this system can earn revenues as any excess power generated can be fed to the grid for which DISCOMs pay compensation using 'net metering'.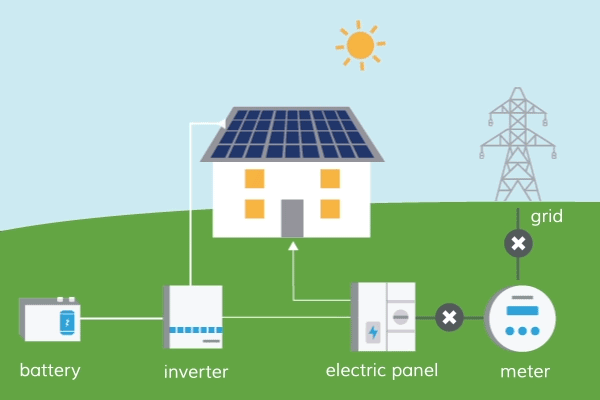 This is the most common business model for solar deployment in India. In this model the consumer purchases the solar system, by making 100% of the payment upfront or financing the system, often through a bank.
Here the RESCO developer invests in solar rooftop asset, and sells the generated power to the building owner in favour of a lower solar power tariff. The excess power could be sold by the building owner to the utility through net metering system.
HOW ROOFTOP SOLAR CAN MAKE YOU MONEY?
With solar on your roof, your power bills will be massively reduced because you will need less electricity from the grid. The cost of electricity from the grid is expected to rise in the coming years, so your cost savings should also rise! And with a linear power warranty of 27 years, you can expect long-term cost savings from avoiding the cost of expensive electricity from the grid.